Pharmagreen
 Biotech, Inc., (OTCQB: PHBI) ("Pharmagreen" or the "Company") provides the highest quality starter plantlets cannabis/hamp plants and any plant species on this planet utilizing a proprietary tissue culture process, "Chibafreen," to licensed cannabis cultivators and CBD / CBG hemp farmers.
CHIBAFREEN™ is a new, highly evolved, state-of-the-art in vitro plant production method introduced by Botanical Research In Motion Inc. (BRIM) for exclusive use by Pharmagreen Biotech Inc. for various kinds of high-quality plantlets production in the Company's botany complex. (Corporate Website)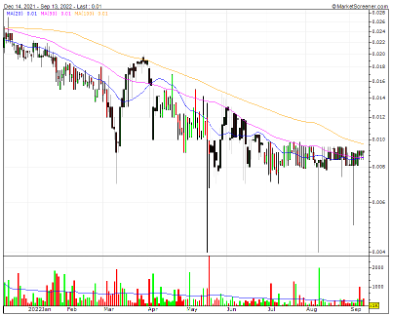 Pharmagreen is developing its business model beyond just cannabis, and is focused on near term revenues from its proprietary blend of therapeutic plants and fungi, a nutraceutical wellness product.
PHBI's goal is to make ChibafreenTM the industry standard.
Depending on what forecast one reads, the growth of the nutraceutical market shows a percentage CAGR of between 7.5 and 9.0 annually.
A nutraceutical can also be defined as a food that impacts positively on an individual`s health, physical performance, or state of mind, in addition to its nutrition content. Thus, a nutraceutical is a product with a functional ingredient that provides specific nutritional benefit. Amid the COVID-19 crisis, the global market for Nutraceuticals estimated at US$278.8 Billion in the year 2020, is projected to reach a revised size of US$441.7 Billion by 2026. (Globenewswire)
In that vein, PHBI has developed and is building sales channels for a formulated nutraceutical—the Company's first—utilizing more than a dozen plant compounds, the efficacy is to "repair damage done to your DNA. This damage happens during cell division and as a result of oxidative stresses due to environmental influences such as pollution. By using fungi and plants that contain β-glucans, polyinosinic-polycytidylic acid, lipopolysaccharides, and many more beneficial compounds it is possible to reverse damage done to your genes". (09/08/22 PR).
Peter Wojcik, CEO of Pharmagreen stated, "We are truly excited to be starting our sample testing with friends and family with our proprietary blend of some of the most therapeutic and efficacious plants and fungi nutraceutical products. With this formulation, we are aiming to help increase energy levels to support optimal brain function. We look forward to starting our online sales soon."
This important nutraceutical as well as others in process will have a wide sales availability through PHBI's coming online store as well as the iconic platforms, Shopify, Amazon and a myriad of other online sources.
Mr. Ethan Styles of Long Valley Farms stated, "My molecular cell biology studies have really opened my eyes to the nutritional and genomic benefits of compounds found in fungi and medicinal plants. In formulating our new products, I take the same all natural and holistic approach we use for our cannabis production. Nutrigenomics is an emerging and fascinating science on the cutting edge of our knowledge of human health, and I am really excited to bring these unique combinations to market."
The healing power of plants is widely accepted. Whether it is ginger for an upset stomach or cutting edge products to repair DNA that are becoming the hall mark of PharmaGreen, the nutraceuticals market/sector is one of the primary growth stories of the decade.
Bottom Line
PHBI is at a point of growing investor interest and could well be viewed as a junior proxy to what by all accounts looks to be an explosive market. Not tomorrow but overtime. The 52 week trade range moved from USD$0.004 to USD$0.04; a potential five bagger if it retraces to its highs! Shares are currently exchanging at around USD$0.01 a share with a growing average daily volume.
One needs to pay attention as from combining plants and fungi, important and potentially profitable nutraceutical grow.
Keeping Pharmagreen on your radar may potentially cure what ails you. And that goes for your portfolio too.
For an updated company website please visit www.pharmagreen.ca