While not publicly listed yet, Rare Earth Ridge exciting mining company currently crowdfunding funding of CDN$ 250k. The minimum required for investing is only $100. And here is the latest video from the recent RMEC webinar where RER presented.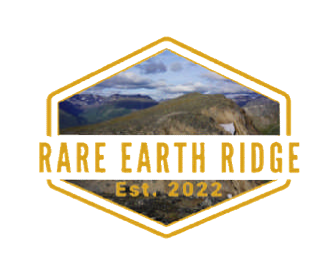 The company believes its property may hold the largest deposit of rare/critical metals and rare earths in North America. Assays of the rocks returned consistent anomalous values of gallium, hafnium, niobium, zirconium, tin, tungsten, tantalum, rubidium, lithium and rare earths.
The rare earth elements (REE) are 17 metallic commodities in the middle of the periodic table (atomic numbers 21, 39, and 57–71). These metals have unusual yet critical fluorescent, conductive, and magnetic properties, making them very useful when alloyed or mixed in small quantities with more common metals such as iron.
RER believes its Mount Major Hart rare earth/ rare metal Project Figure (1 & 2) in north-central, British Columbia (BC), Canada, may hold the largest deposit of rare/critical metals and rare earth in North America.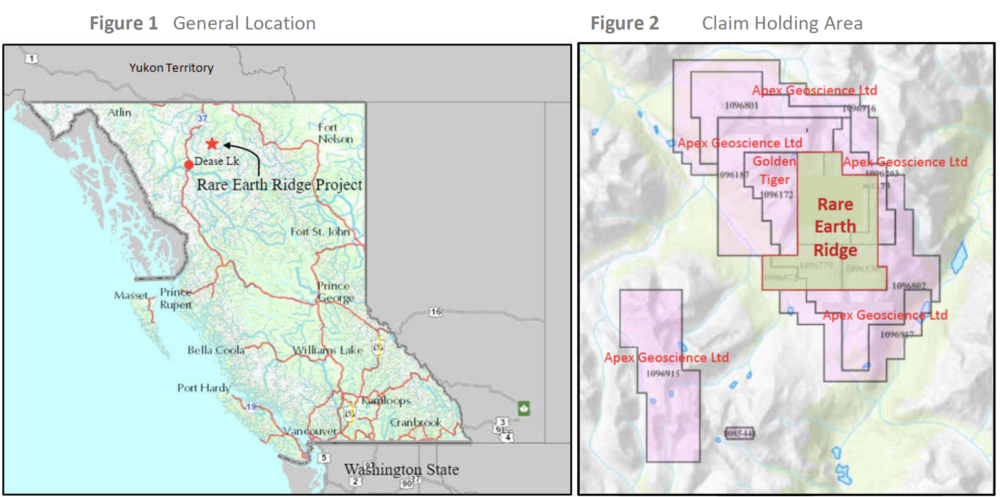 The project is located 90 km from Dease Lake and close to major port facilities. The access to the property is easily doable because there is road access, and many gold mines are in the area. Regarding power plant, a hydroelectric power station is close to Dease Lake.
Below is the exploration development plan for RER to date and into 2023. The key information for 2023 is further infill surface sampling with anticipation of resource drilling in late Q3 2023 and with further resource drilling in 2024; meaning Rare Earth Ridge will then be considered a major developing mine. The project possibly will be North America's largest Rare Earth Mine, a low grade high tonnage per day operation or what is known as "Economies of Scale Operation".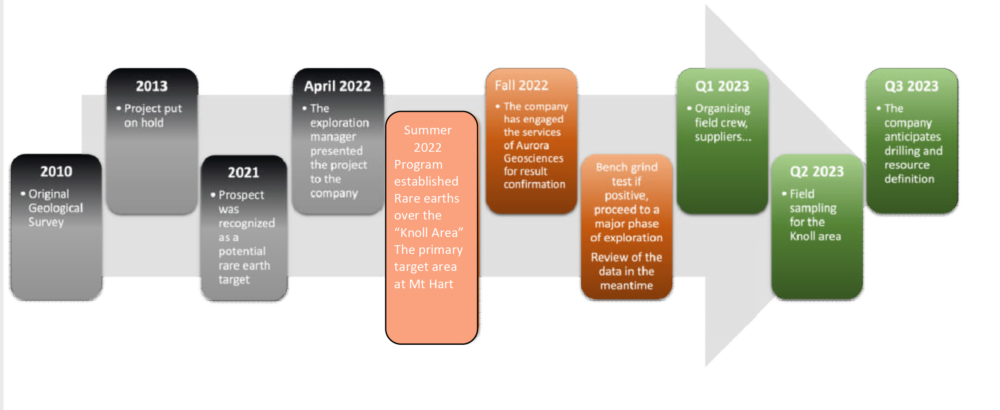 Major Hart REE Project Highlights
Rare Earth Ridge Resources owns 100% of the claim group acquired by staking. The primary target on the property is named the "Knoll Area" based upon the highest sampling grades to date and the ease of future mining stopes (Figure 3). This area measures at lea t 1.0 Km by 1.0 Km with an elevation difference of 350m, representing a total rock volume of 375,000,000 m³ yielding 937,500,000 tonnes. The grade of rare earths/metals/exotics at Mt Ha t is .065%.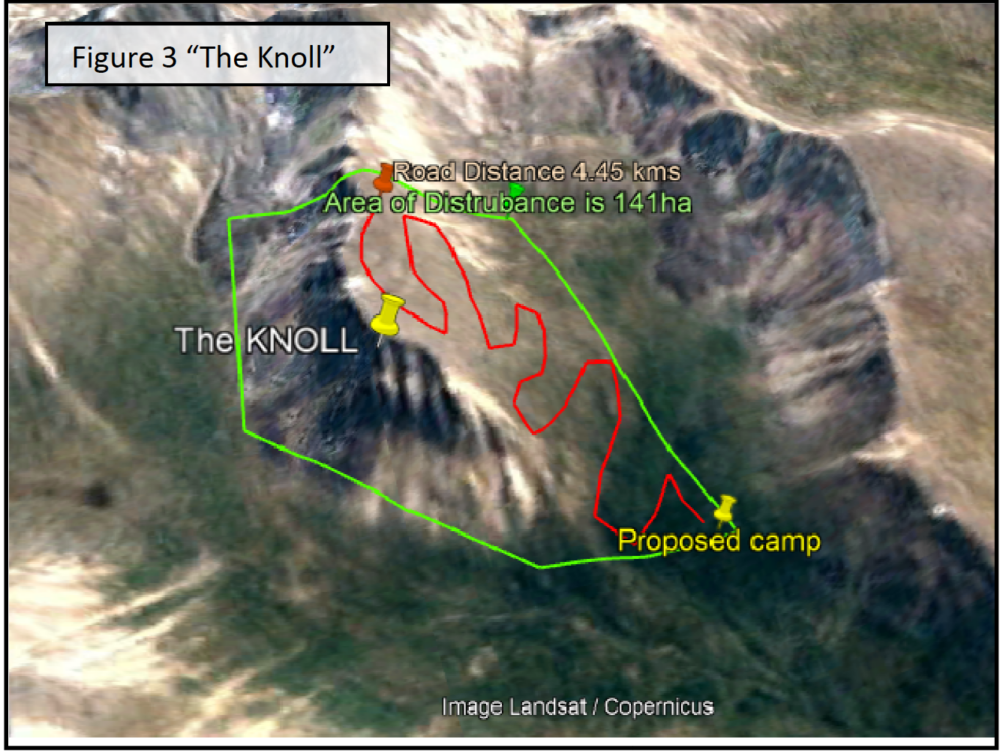 Analysis of the rock geochemistry determines Mt Hart as "peralkaline" type granite similar to other world class large tonnage rare earth projects. Our consulting geologist also plotted from the assays the "location" of the coarseness within the chart granite field resulting in a plot just above the Rare Element Pegmatite Field consistent with observations made during the August 2022 field sampling program where a "protrusion-like structure was noted high in the cliff face at the "Nose of the Knoll Area" (Figure 3). This is not surprising when considering the Mt Hart intrusive is a medium to coarse-grained perakaline biotite granite.
Rare Earth Metals Summary and Outlook Demand
Demand for clean energy minerals is projected to increase by up to 600% in the coming decades.
ARE expects the global rare earth market to reach $20 billion within the next few years
President Biden has issues several executive orders directing investment and partnerships to boost the onshoring of this industry, describing US reliance on other nations as a threat to national and economic security
While most of the attention is commonly focused on the growing demand for lithium to power ever-larger batteries, these ultra-powerful magnets convert motion into electricity
the White House says China controls 87% of that market
REEs are used in various industrial applications, including electronics, clean energy, aerospace, automotive, and defence. Manufacturing permanent magnets are the single largest and most important end use for REEs, accounting for approximately 29% of demand.
Key facts (GoC)
Canada has some of the largest known reserves and resources (measured and indicated) of rare earth in the world, estimated at over 14 million tonnes of rare earth oxides in 2021.
Manufacturing permanent magnets are the most extensive global use for REEs, accounting for 29% of the total forecasted demand
China is the world's largest producer, with an estimated 140,000 tonnes of REEs in 2020, accounting for almost 60% of global production
Many countries, including Canada, have rare earth resources but producing REEs requires complex separation and refining processes.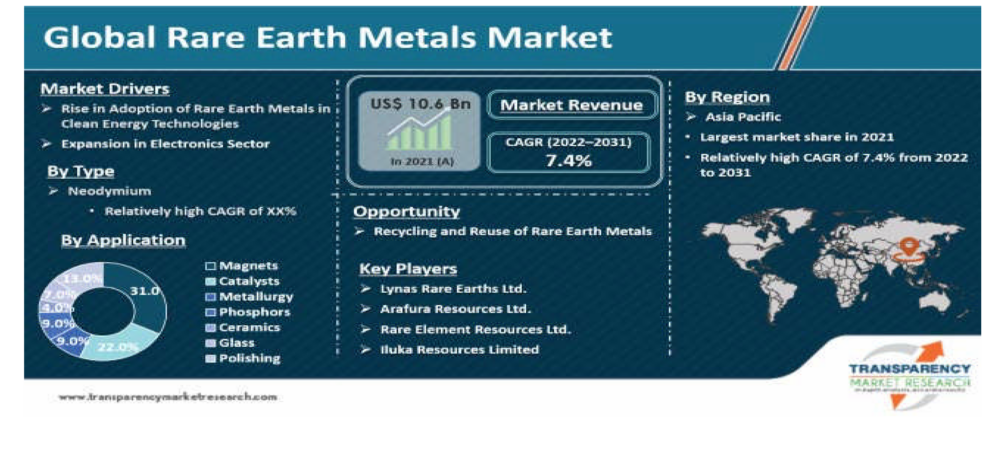 The global rare earth metals market generated about $7 billion in revenue in 2021, and it is expected to reach a whopping $15 billion by 2030, progressing with a CAGR of 9.1% during 2021–2030. This growth will primarily be due to the increasing usage of these elements in the consumer electronics, energy, aerospace, and automobile industries.
Advanced Uses
"Rare-earth elements (REE) are necessary components of more than 200 products across a wider range of applications, especially high-tech consumer products, such as cellular telephones, computer hard drives, electric and hybrid vehicles, and flat-screen monitors and televisions. Defence applications include electronic displays, guidance systems, lasers, and radar and sonar systems. Although the amount of REE used in a product may not be a significant part of that product by weight, value, or volume, the REE can be necessary for the device to function. For example, magnets made of REE often represent only a tiny fraction of the total weight, but without them, the spindle motors and voice coils of desktops and laptops would not be possible.(https://www.americangeosciences.org)
Rare Earth Ridge is currently doing a private placement accessible on vested.ca to become publicly traded; Lots of news will be coming soon from this story. And a proxy for the REE sector for a minimal cost (or more). Rare Earth Ridge has lots of potentials to move forward. And given the scarcity of these critical elements, they are myriad.